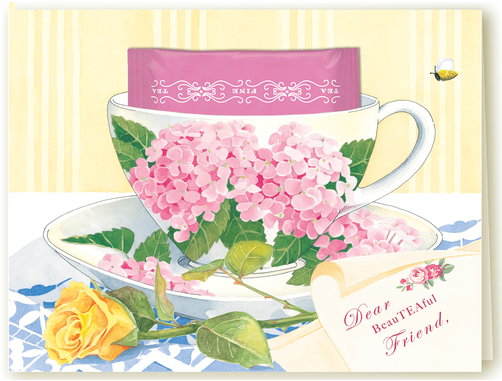 Thank you from the bottom of my heart for choosing my tea cards to deliver encouragement and joy during this difficult time of social distancing. May each card warm the hearts of those who receive them. I have to admit, I was completely upset when this first happened. Mainly because small business owners around me started closing their doors, many of them friends. Then my heart began to ache for the Tea Rooms and Gift Shoppes where my cards are sold knowing this pandemic would effect their businesses terribly.
But now weeks in, God has showed me many blessings that He is working in spite of the hardships. Some things God orchestrated previously that are benefiting people now. A friend moved from one sate to another to be close to her mom when now it would be impossible. My daughter took a new job with a company that's still in business over another who shut down. Friends had high medical bills erased. Many in my area are using the time to enlarge their gardens and start raising chicken, something they wanted to do but didn't have the time. No one I know is ill, and no one they know are ill. Parents are spending more time with their children.
I began a journal about what stands out to me. I also started pen-palling, something I previously enjoyed. If you'd like to use this time to share what you are doing and how this pandemic is effecting you feel free to write me, I'd love to hear from you. Each letter received has become a memento of hope and joy I've added to my journal.

Kindest regards to you all,
Kimberly Shaw, PO Box 909, Mount Angel, OR 97362
PS: I may even send you a letter with 2 cent postage as written about in a previous blog post. Don't worry, it'll get there.